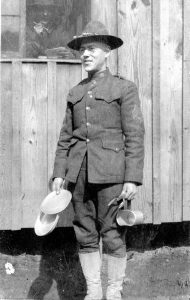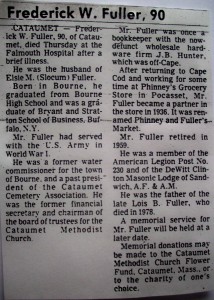 Ancestry:  Thomas Andrew Fuller;  Reuben Hatch Fuller;  Ebenezer Fuller
Born: December 18, 1893 in Bourne Ma.
Father: Thomas Andrew Fuller; (1855 – 1936) (Reuben Hatch Fuller & Lucy Bourne (Jones))
Mother: Lena Fortia Dimmick; (1867 – 1928) (Frederick Dimmick, Jr. & Tirza Hatch)
Died: November 1, 1984 in Bourne Ma. at 90 yrs.
Buried: Cataumet Cemetery; area D (with his wife Elsie M. & daughter Lois B.)
Occupation: Bookkeeper, Owned Phinney & Fuller Grocery Store in Pocasset Ma.
School: Bourne High School Class of 1913
Where Lived: 1316 County Rd. in Cataumet Ma.
Married: October 10, 1922 in Dartmouth Ma. by George H. Wright
To: Elsie May Slocum; (1897 – 1994) (Arthur Howland Slocum & Adeline/Addie B. Clevesly/Cleverley)
Children: 1 (adopted)
1. Lois B. Fuller; (1932 – November 15, 1978); Lois was a teacher in Connecticut; Unmarried; She is buried in Cataumet Cemetery with her parents Frederick W. & Elsie M..