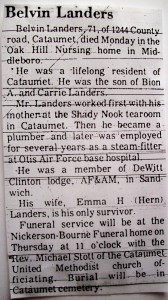 Ancestry:  Bion Andrew Landers;  Ezra B. Landers;  John Landers;  John Landers;  John Landers;  John Landers;  John Landers;  Thomas Landers
Born: March 30, 1905
Father: Bion Andrew Landers; (1858 – 1936) (Ezra B. Landers & Asenath Fish)
Mother: Carrie Hennes; (1866 – 1936) (Isaac Newton Hennes & Harriet S. Berry)
Died: March 7, 1977 in Middleboro Ma. (Oak Hill Nursing Home) at 71 yrs, 11 mos, 7 d.
Buried: Cataumet Cemetery; area C
School: Bourne High School Class of 1924
Occupation: Worked with his mother at the Shady Nook Tearoom in Cataumet Ma., Plumber & a Steam Fitter at Otis Air Force Base Hospital
Where Lived: 1244 County Rd. in Cataumet Ma.
Married: September 15, 1939 in Bourne Ma.
To: Emma H. Hern; (1904 – 1977) (Thomas C. Hern & Harriet E. Holbrook)
Children: None